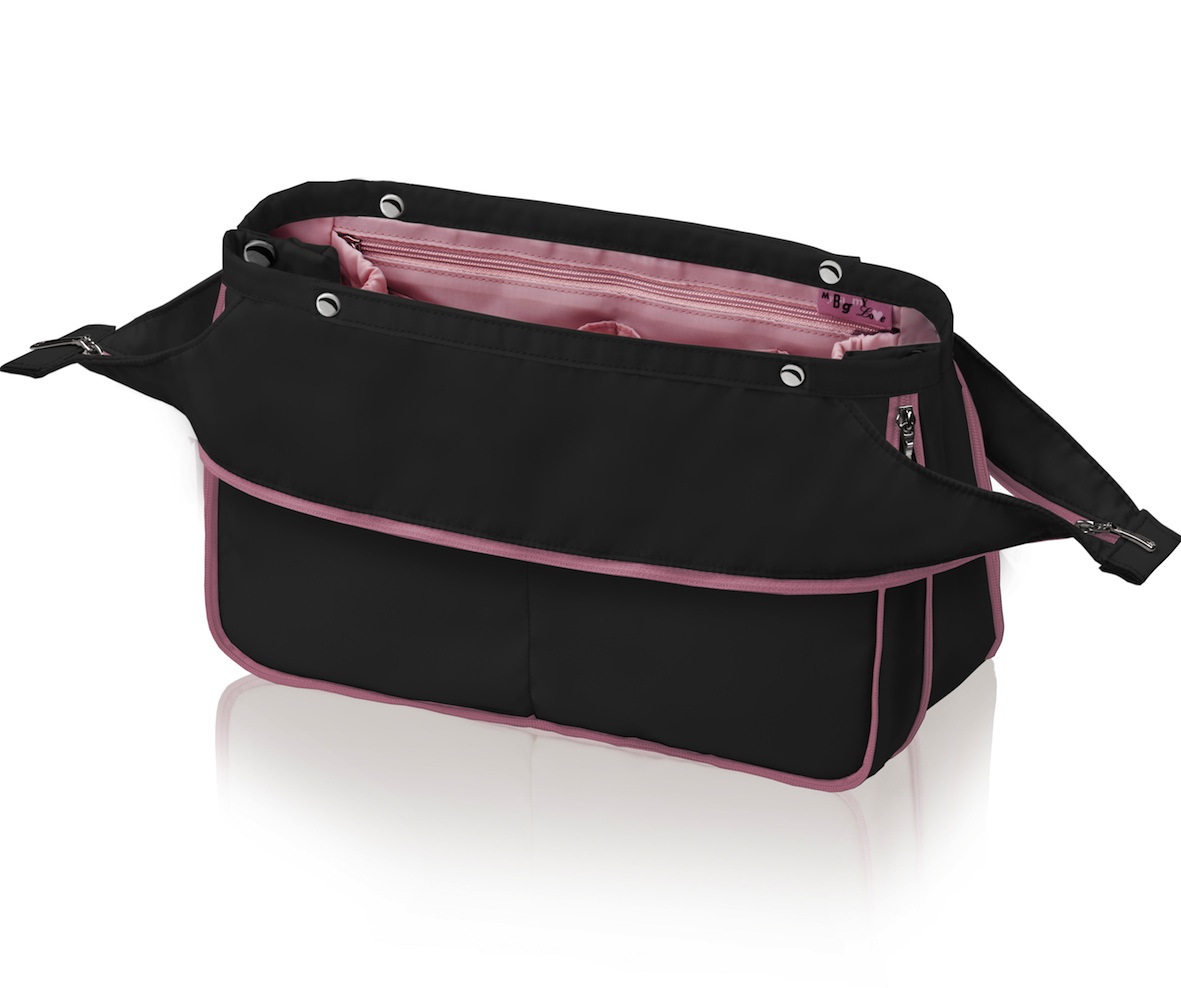 MyBagMyLove Handbag Organizer Duo deLuxe black and rose
Luxurious handbag/purse organizer MyBagMyLove - Duo deLuxe series in black and old rose.
Dostupnost: skladem
Properties of MyBagMyLove handbag/purse organizer Duo deLuxe
•Body color:black and old rose
•Zipper color: old rose
•Material: 100% polyamid
•Organizer dimensions: 17 x 27 x 8 (plus 2 x 3) cm
•Number of pockets: 12
•Type of inner pockets: 2x double pocket
•Type of handles: outer
Why should you buy MyBagMyLove Handbag Organizer?
Do you like to switch your handbags?
MyBagMyLove handbag/purse organizer is designed for women who love to switch hangbags/purses and do not want to waste time by moving all its contents one by one from one handbag to another. Say good-bye to tireless removing of handbag contents from one purse to another. All you have to do now is pull your handbag/purse organizer from your handbag/purse and place it into another one. Easy and fast like that! Plus, you can always be sure that you've got everything you need in your purse.
No more mess in your handbag/purse!
You'll never have problems with finding anything in your handbag/purse anymore! Everything in your handbag organizer has it's own spot where you can find it anytime you open your handbag/purse. Since the whole handbag organizer can be washed in a washing-machine, you don't have to worry about any stains inside your handbag anymore. While the classic handbag is not easy to clean from the inside, handbag organizer can be washed just like any other piece of your clothes.
Top quality Czech made product
MyBagMyLove handbag organizers are sewn in Czech Republic from materials made by renowned Czech company Hedva. YKK metal components we use to make the MyBagMyLove handbag organizer are made in Europe and used by famous brands such as Louis Vuitton, Prada nebo Dior.
Handbag size does not matter!
Do you have handbags/purses of different sizes? No problem! MyBagMyLove handbag organizer can easily deal with it! It fits to any handbags inside. All you have to do is unzip the zippers and poppers.
Do you want to see the handbag/purse organizer details? Checkout the design & properties page.
MyBagMyLove handbag/purse organizer maintenance
MyBagMyLove handbag organizer can be washed in a washing-mashine at temperature of 104 °F.